Former Prime Minister Rt. Hon. Brian Mulroney has joined more than 40 former judges, ministers, legal scholars and lawyers in publishing a letter to the Chief Justice of Iran to express his alarm at "new and intense violations of the basic human rights of the Baha'i religious minority of Iran."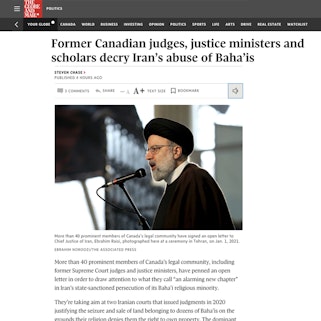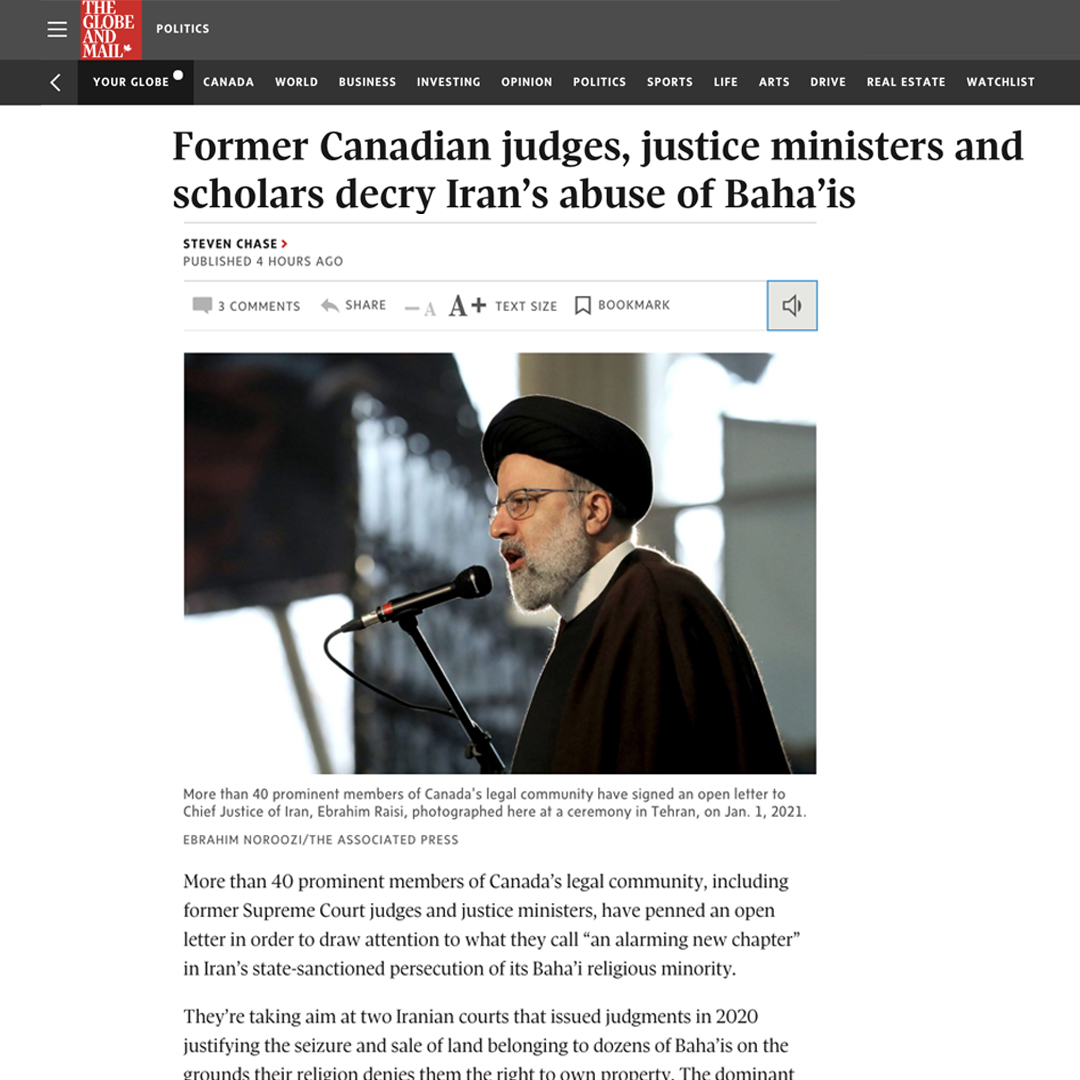 The signatories to the open letter include former Ministers of Justice and Attorneys-General, retired Justices of the Supreme Court of Canada, retired judges, legal academics and practicing lawyers. They decry the recent decisions of two appellate courts in Iran to declare ownership of land by 27 Baha'is in the village of Ivel to be illegitimate on the basis of their religious belief.
The letter describes court decisions by Judge Hasan Babaie and Judge Mohammad Sadegh Savadkouhi to confiscate Baha'i property following a legal process "that denied the Baha'is and their lawyers any opportunity to see the relevant files, to prepare a statement of defence, or to produce any documents or arguments."
"This letter is an unprecedented statement from some of Canada's leading legal figures," said Geoffrey Cameron, Director of Public Affairs for the Baha'i Community of Canada. "It underscores the stark injustice of this judicial abuse by the Iranian courts, which are denying Baha'is the right to own property because of their religion."
In an article published in the Globe and Mail, Irwin Cotler – former Minister of Justice and Attorney-General – said what's so alarming for Canadian legal community is how Iran "seeks to criminalize the very existence" of the Baha'is.
Another former Minister of Justice and Attorney-General, Jody Wilson-Raybould, added that the oppression of the Baha'is is one example where the rule of law is being trampled "and legal systems are used to undermine rather than uphold basic rights."
Diane Alai, Representative of the Baha'i International Community to the United Nations in Geneva, said that Iran's government has long used property confiscations to impoverish the Baha'i community. However, "Iranians of good conscience know that the Baha'is only wish is to contribute to the progress of Iran and that they are innocent. The true crime is Iran's government placing its hands on the hard-earned livelihoods and properties of its Baha'i citizens."
More information about land confiscation and mass displacement of Baha'is in Iran can be found at a website hosted by the Office of Public Affairs.