In a rare dialogue about the role of faith in governance, Canadian parliamentarians and representatives of the country's religious communities recently held the inaugural meeting of the All-Party Parliamentary Interfaith Caucus—a new space to explore how principles and insights from religion can contribute to thinking about the challenges facing the country.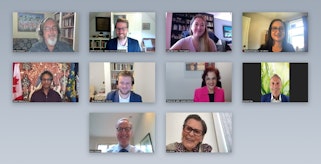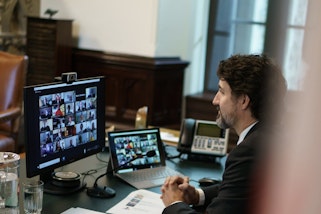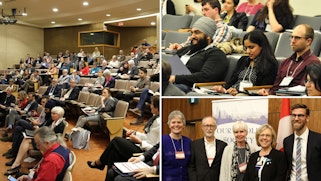 "I believe that religion defines who we are and what we value, and that democracy, which is a vehicle by which we inform change, is often guided by these values," said Mobina Jaffer, a member of the Canadian Senate.
The recently formed all-party caucus is open to members of Canada's elected House of Commons and appointed Senate and is organized with the support of the Canadian Interfaith Conversation (CIC), of which the Bahá'í Community of Canada is a member.
"The pandemic has produced new kinds of dialogue between government and religious communities," said Geoffrey Cameron of the Canadian Bahá'í Office of Public Affairs. "It has made leaders more conscious of the important role religion continues to play in inspiring people to serve their society."
Stockwell Day, former MP and cabinet minister, spoke about the power of religion to bring comfort and hope, especially in times of crisis. "The very notion of religion in our society gives us a sense that there is restraint on a leader, and that there should be some sense of humility at the possibility that there is a bigger force out there than himself or herself, or the group to which they associate."
He continued: "If individuals have a sense of religion—that there is something greater than ourselves—that brings a sense of solace.
"And so we imagine this spread over millions of citizens within a political setting, a significant portion of whom believe there is actually a power of God out there, [who] are living with a greater sense of respect and, we would hope, love for one another."
Participants emphasized that beyond personal inspiration, religion can make important contributions to the policymaking process.
Member of Parliament Garnett Genuis said, "There are two concepts that are of supreme importance in religion: one is love and another is truth. And those two concepts have to go together. If you have love but no sense of truth, then … you're not understanding what is really going on or what someone's real needs are. And if you have a sense of the pursuit of truth, but no love in the process, that's also clearly deficient… Love means being willing to confront serious injustice."
Speaking with the News Service about the future of the all-party interfaith caucus, Dr. Cameron of the Bahá'í Office of Public Affairs states: "There is a need to foster new relationships among policymakers and faith communities and to frame conversations such that people can collectively advance in their thinking by exploring productive lines of inquiry, rather than framing every issue as a binary choice."
"Underlying the contributions of the Office to the discourse on the role of religion in society," he continued, "is the Bahá'í principle of the essential oneness of humanity. This caucus, although in its very early stages, is an expression of that principle and an example of greater societal unity."
This story originally appeared on the Baha'i World News Service.