"How can we allow newcomers' conceptions of community to influence our own? They can help to challenge a prevalent individualism in our culture."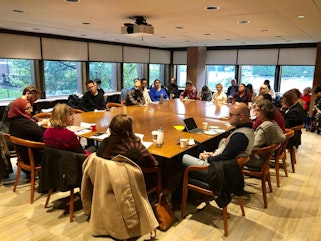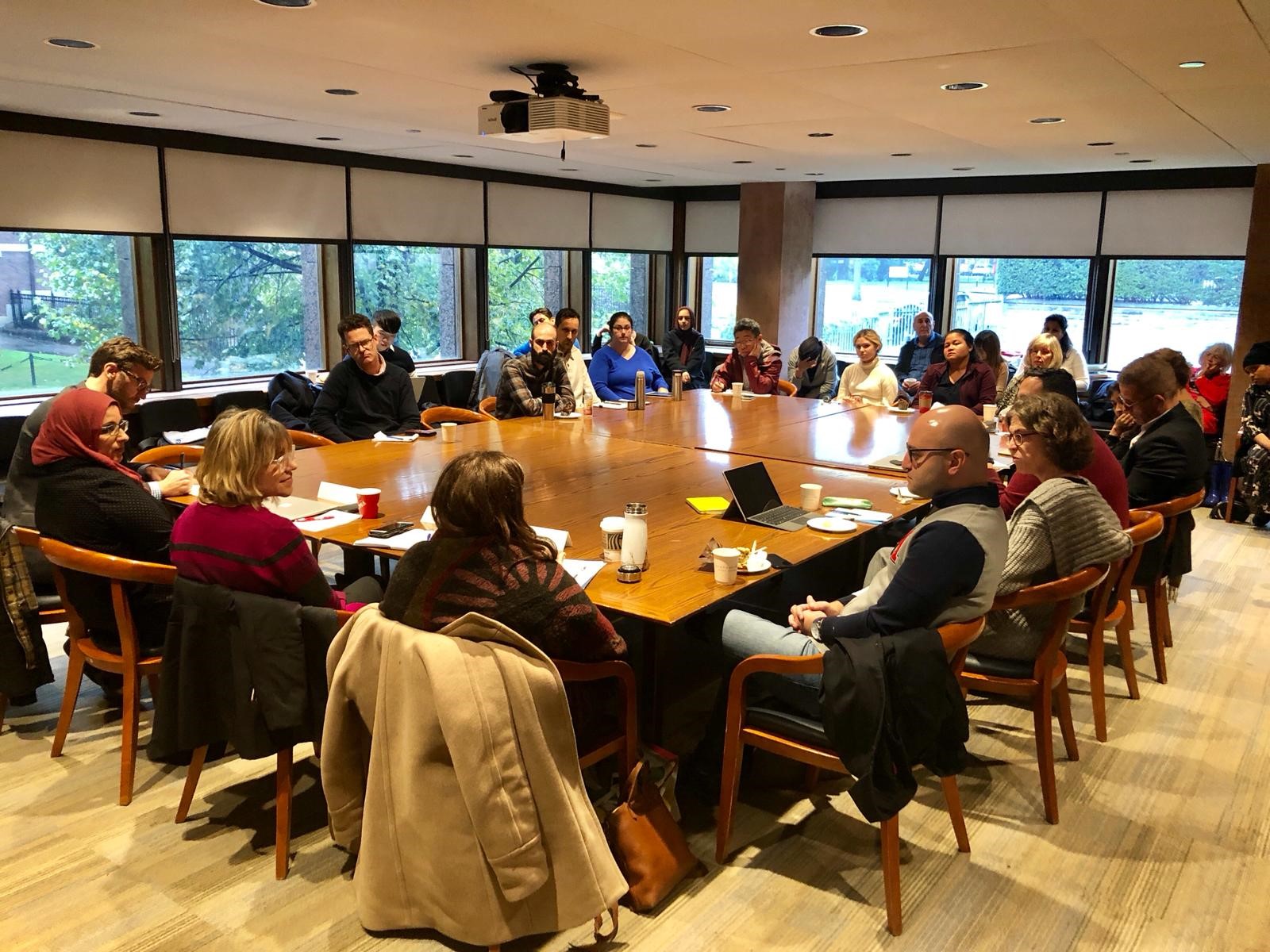 This was one of remarks made by Neda Farahmandpour, Manager of the Toronto North Immigration Partnership for JVS, a speaker at a seminar organized by the Baha'i Community of Canada's Office of Public Affairs at the Munk School of Global Affairs and Public Policy, University of Toronto, on October 16, 2019.
This was the first seminar in a series on religion and immigration, co-sponsored by the Global Migration Lab at the Munk School and the University of Toronto Multi-Faith Centre. The seminar was framed by a number of questions, including the following: What ideas, principles, and beliefs motivate those involved with faith-based settlement organizations? What role do religious communities play in supporting the process of settlement and integration? What can secular and faith-based organizations involved in the settlement of recent immigrants learn from each other?
Ms. Farahmandpour was joined by Anne Woolger, Founding Director of Matthew House, and Bayan Khatib, Executive Director of the Syrian Canadian Foundation, in a discussion chaired by Geoffrey Cameron, Director of Public Affairs for the Baha'i community. The discussion focused on the role of religion in the process of the initial settlement of recent immigrants to Canada. Some 30 people, including students, faculty, and others from the immigration sector attended the seminar.
"Within religion one finds ideas and conceptions of what it means to live a good life, the purpose of life, of working towards the common good, and these ideas all bear on the life of a community," said Ms. Farahmandpour. "How can service providers tap into this knowledge and in what ways can it influence their practice?"
Ms. Khatib spoke about her experience working with the Muslim Association of Canada and the Unitarian Church on a private sponsorship initiative to resettle Syrian refugees in Canada. She observed that there was initially some uncertainty about these relationships, but that this gave way to sharing a dialogue that led to the discovery of a shared set of principles across religious lines. She noted how there emerged a feeling of "common cause" among those of different faiths, which was rooted in a similar set of values.
Ms. Woolger and Ms. Khatib narrated stories from the Bible and the Qur'an, respectively, which can be interpreted to emphasize the role of hospitality and service to foreigners.
"In our modern society, we have to work hard to retain values of hospitality, sacrifice, and devotion to service," said Ms. Khatib. "These values bring us closer together."
Michael Sabet, a PhD student in the audience, observed that in Canada it appears that the population is more willing to support larger refugee programs when they are framed using the language of values. He asked how we can discover a language that gets away from describing refugees in terms of cost-benefit analysis.
All too often, immigrants and refugees are perceived with regard to the costs they impose, noted Ms. Farahmandpour. Not only is this usually inaccurate, but is can lead to attitudes of paternalism. "How do we see the people we serve?" she asked. "We should try not to decide the path for people to participate in Canadian society, but help residents to co-create that path with us."
The next seminar will be held at the Munk School of Global Affairs on November 13th.