Members of Parliament, representatives from diverse faith communities and members of the wider public gathered to discuss polarization in Canada at a breakfast event on Parliament Hill on June 8th, 2023. Titled The Threat of Polarization in Canada, the discussion breakfast was hosted by the All-Party Parliamentary Interfaith Caucus and the Canadian Interfaith Conversation. The event followed the national Our Whole Society conference, held at Laurier University in May, which also explored the prevalent challenge of finding common ground in a time of deepening social divisions in Canadian society.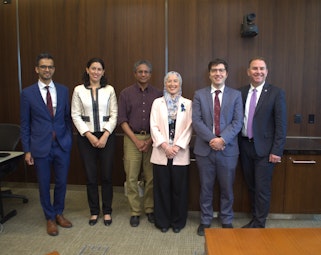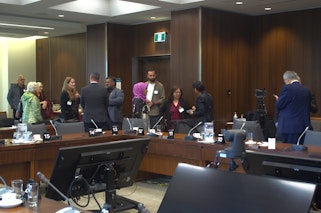 The event began with remarks from representatives of faith communities who provided insight into the role of religious communities in countering the effects of polarization in Canada. Noting that polarization is often bolstered by narratives that foster fear and mistrust, Amira Elghawaby, Canada's Special Representative on Combatting Islamophobia, described faith communities as key sites for the generation of narratives that foster greater appreciation for diversity in society. "We must strongly counter divisive voices with narratives about what it means to belong to a country that aspires to values of diversity, freedom and safety for all. While it is not an easy task, we must work collaboratively within and beyond faith communities […] with a determination to affect social change" said Elghawaby.
Andrea Salguero, Director of the Bahá'í Community of Canada's Office of Public Affairs, described faith communities' capacity to host spaces dedicated to meditation and prayer as one way to reverse the process of dehumanization inherent to increased polarization. "In devotional spaces we are better able to see the humanity in others and can draw on inspiration that assists us to turn annoyance to patience, and aggression into peace. The challenge before faith communities is to ensure that environments that welcome a wide range of people and perspectives are fostered," said Salguero.
Richard Marceau, Vice President of External Affairs and General Counsel for the Centre for Israel and Jewish Affairs, noted that overcoming polarization was not about eliminating differences of opinion present in a healthy democracy, but rather an exercise in fostering greater respect and capacity to listen when engaging with others. "Disagreement, even when dealing with fundamental truths, can be done with respect. When you are secure in your faith tradition, in your beliefs and when you respect others, this brings people together," said Marceau.
Members of the All-Party Parliamentary Interfaith Caucus also reflected on their own experiences with polarization. Parliamentarians focused their remarks on how to respond constructively in the face of disagreement, and on how religion can be a source of insight in maintaining an open and pluralistic society where different voices are welcomed to contribute to a vibrant public sphere.
Garnett Genuis, Member of Parliament for Sherwood Park—Fort Saskatchewan, reflected on the relationship between polarization, identity, and the decline in community life. "…[Political] polarization today is driven by the fact that many in politics are no longer connected to pre-political communities. Politics is all they have and there is nothing to check or moderate their devotion to their shared ideology" said Genuis. He noted that having multiple overlapping identities as part of a faith community or neighbourhood serves to check narrow political identity and emphasized the need to see others as more than a combination of material characteristics, experiences, and political opinions. "Seeing people as having inherent and limitless value […] because [he or she] is made in the image of God […] can lead one to appreciate how we all share our common humanity despite difference in views and characteristics. If somebody has nothing in common with you otherwise, they still have that most essential piece in common as a human being."
Elizabeth May, Member of Parliament for Saanich—Gulf Islands and co-leader of the Green Party of Canada, spoke of the urgent need to address violence resulting from polarization in society while maintaining empathy for the young people that are most at risk of being targeted by hateful ideologies. "All of the traditions that call on us to know that we are not the only thing there is let us remember that we are responsible for our own actions and that we have to act with love," said May.
Sameer Zuberi, Member of Parliament for Pierrefonds –Dollard, closed the event with his own reflections on the importance of dialogue: "At the end of the day we are united here by core values that call for the respect of every person, of whatever background. Being able to speak to each other is important but listening to each other as we have done today is the harder thing to do. This gathering is so important for bridgebuilding and unique because it has brought together so many people from different backgrounds."
A recording of the event is available here .