The past year has witnessed an unprecedented series of events and changes associated with the global pandemic, including the tragic loss of life. Baha'is across the country have been joining with others in prayer and commemoration to mark the passage of this year and to pray for those who have suffered and passed away during the pandemic.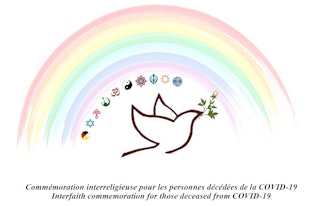 In Montreal, the Canadian Centre for Ecumenism sponsored an interfaith commemoration for those deceased from COVID-19. "We are all profoundly grieved by the loss of life due to this pandemic, and this was an opportunity to join together across many different traditions in prayer, music and reflection," said Adriana Cabrera Cleves, a local Baha'i representative who served on the organizing committee for the event. The event, which took place virtually in French, included more than 220 people and was attended by François Legault, Prime Minister of Quebec.
Ms. Cabrera Cleves also helped to organize an English language event at McGill University, sponsored by the McGill Office of Religious and Spiritual Life. This event, a "Commemoration for COVID Losses," included a Baha'i prayer for the departed, among other devotional contributions. She said that as a result of this pandemic, humanity is striving "to gain a deeper appreciation of its inherent oneness and interdependence, and to understand that society's collective strength is dependent on the unity it can manifest in action from the international stage to the grassroots."
Ms. Cabrera Cleves shared a reflection from recent letters from the Universal House of Justice, the international governing council of the Baha'i community, which speak to the circumstances of the global pandemic.
"May your minds be ever bent upon the needs of the communities to which you belong, the condition of the societies in which you live, and the welfare of the entire family of humanity, to whom you are all brothers and sisters," the House of Justice wrote in March 2020. "In your quiet moments, when no course of action other than prayer seems possible, then we invite you to add your supplications to our own and ardently pray for the relief of suffering."
Prayers and reflections from dozens of faith, ethnic, and Indigenous organizations were shared as part of Saskatchewan's "COVID Vigil," a virtual event organized by a diverse group of people. The theme of the event was "Together in Remembrance, Together in Hope." "It was structured as a mutual support, to first mourn the losses that the pandemic has caused the community, including those who have died, and restrictions of all kinds, such as not being able to gather together, to see or hug family members" said Robert White, a member of the Baha'i community who helped to plan the event.
The end of the program turned to hope for the future. It included images of a recent Baha'i youth camp held recently with young people from Saskatchewan and Manitoba. The youth created a message that featured a quotation from the Writings of Baha'u'llah: "So powerful is the light of unity that it can illuminate the whole earth."