From April 28-30, around 150 participants came together at the University of Toronto to join a meaningful dialogue and exploration of the changing role of religion in a diverse Canadian society.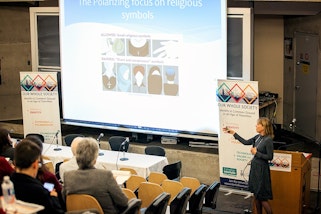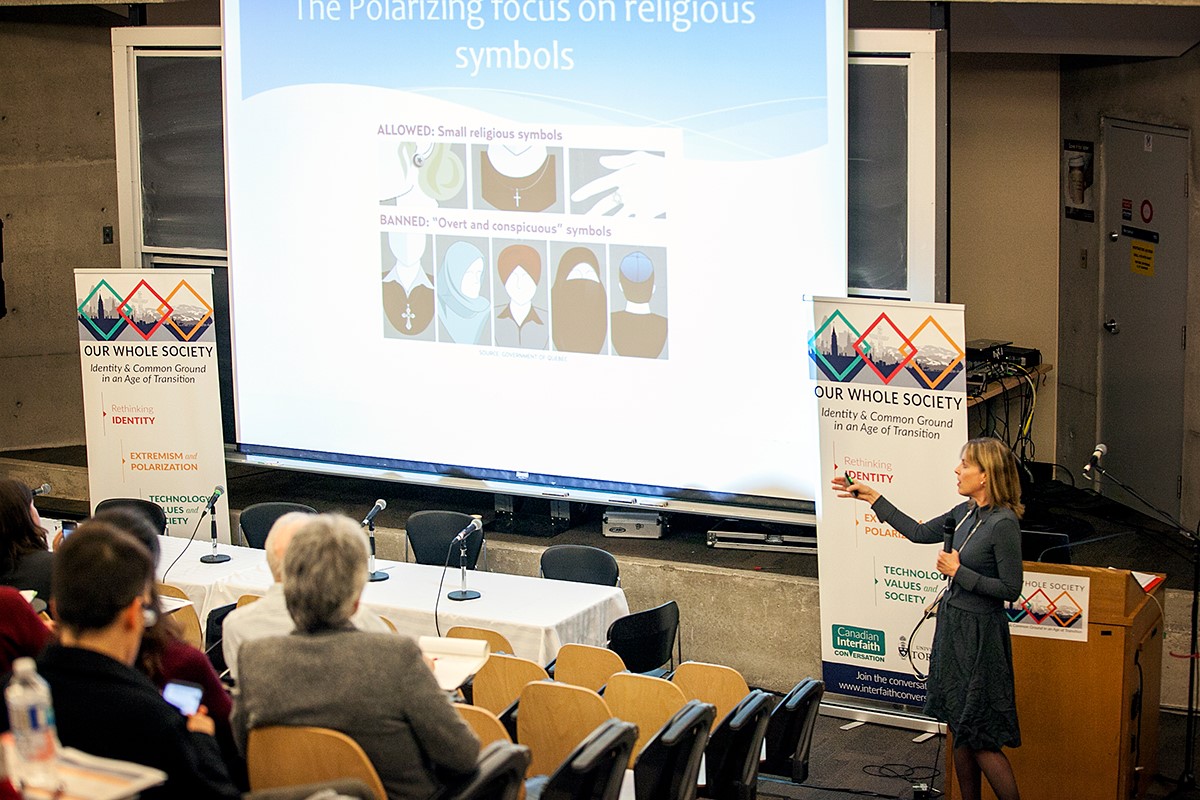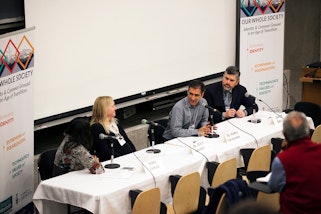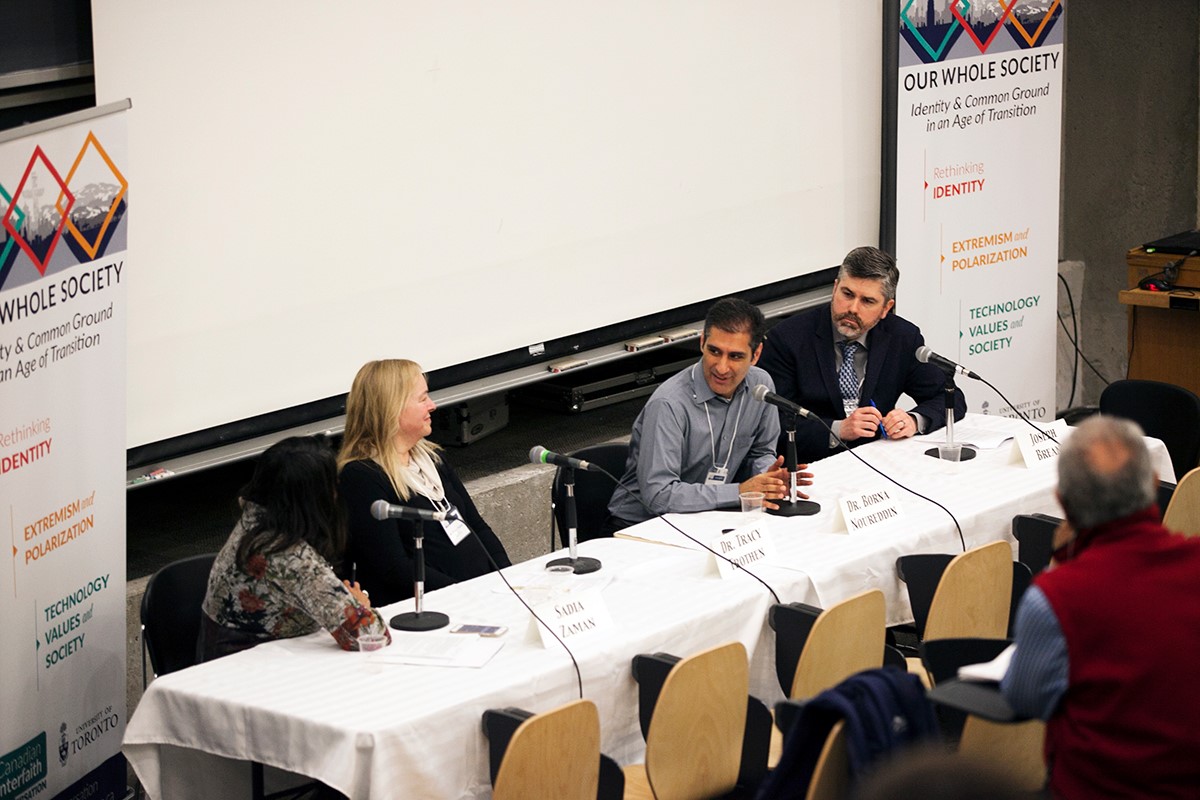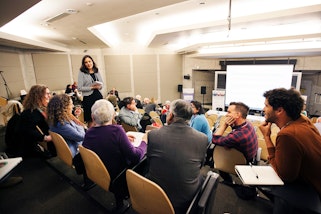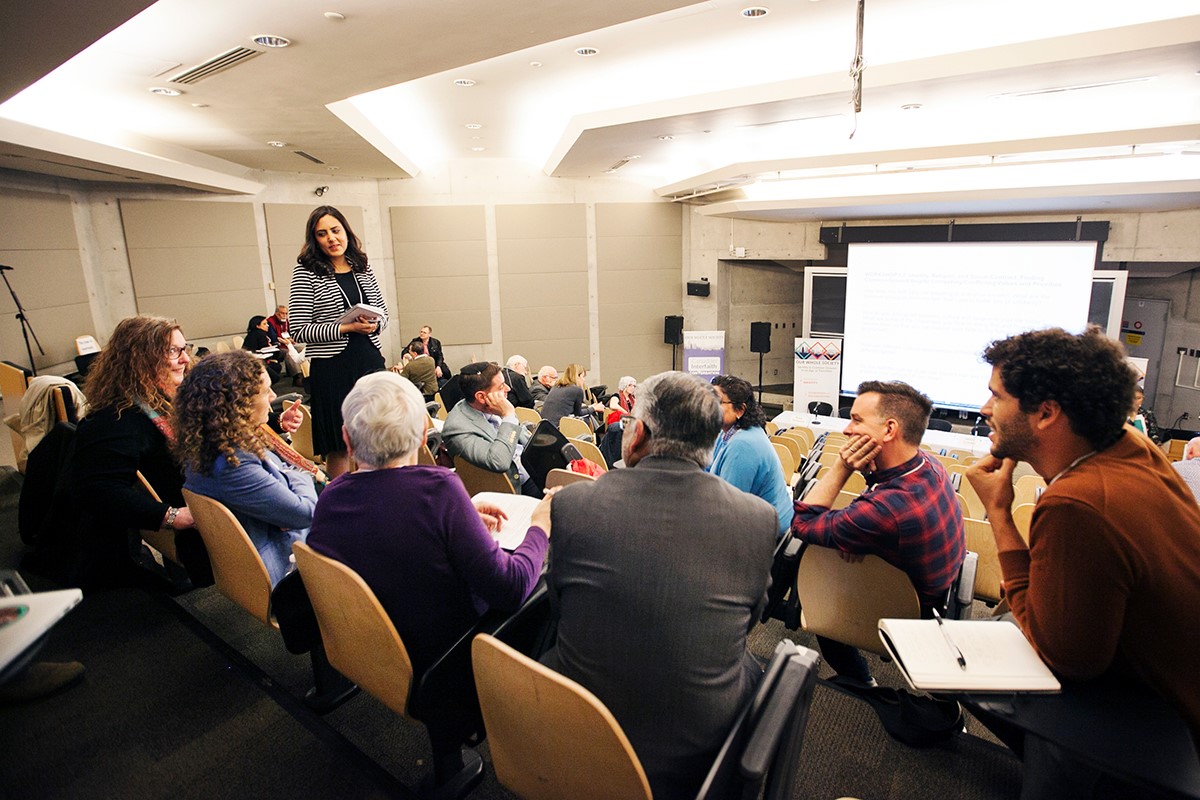 The Baha'i Community of Canada was one of the sponsors of Our Whole Society: Identity and Common Ground in an Age of Transition, the fourth in a series of conferences organized by the Canadian Interfaith Conversation to promote new approaches to thinking about the contributions of religion to public discourse in Canada. Previous conferences were held in Montreal (2013), Vancouver (2015), and Ottawa (2017).
"An important dimension of this conversation is learning how to bridge the religious-secular divide, by focusing on issues of public concern and bringing the insights of Canada's religions and its communities to bear on these discussions," said Geoffrey Cameron, Director of the Office of Public Affairs for the Baha'i Community of Canada and chair of the conference steering committee.
"We have now engaged hundreds of people across the country in a different way of thinking and talking about the role of religion in society, which opens up a space for an exploratory conversation about how we can learn from each other," said Dr. Cameron. "We need to discover how to benefit from Canada's religious traditions as sources of insight that can contribute, in a variety of ways, towards building a society that is more unified amidst its diversity."
Throughout the conference, three sub-themes were explored: Rethinking Identity, Addressing Extremism and Polarization, and Technology, Values and Society.
The conference began with a conversation between two luminaries of Canada's tradition of religion in the public sphere, David Novak and Mary Jo Leddy, in a conversation moderated by Gerald Filson, a member of the National Spiritual Assembly of the Baha'is of Canada. The conversation centred on questions about how religion can help society to achieve a greater degree of unity in a society that seems ever more pulled to the extremes.
"How can religion contribute to a language that can help bring us together?" was a question posed by Dr. Leddy, founder of Romero House for refugees, in her opening remarks.
The conference program featured a number of prominent thinkers from all sectors of Canadian society, including from politics, the media, the university, civil society, foundations, and religious communities. The presentations and panel discussions throughout the conference invited insightful questions from the diverse audience. In the workshops, participants looked at how people of faith are finding commonality and highlighting shared principles and values to strengthen our society.
The opening plenary panel considered questions about rethinking the sources of our identity, and what it means to be human.
Kofi Hope, from the Wellesley Institute, commented: "In order to bring people together we have to look back at our faith roots. Each individual has a soul, a spiritual essence that connects us to the divine, inner dignity and self-worth… In this age of disruption, people are willing to look for new ideas. This is a spiritual conversation – find meaning and purpose in our lives."
These comments were expanded upon by Bob Rae, former Premier of Ontario and interim leader of the Liberal Party of Canada, in his keynote remarks.
"Often we think that conversation is about speaking and then waiting to speak or interrupting. Frequently we don't hear what other people say because we're too busy waiting to speak." Rae urged participants in dialogue to focus on listening and learning from each other.
The second plenary panel examined how religion can help people to respond constructively to the forces of polarization and extremism.
Adam Cutler, Senior Rabbi at Adath Israel Congregation, observed: "Tackling big issues is not something that only one segment of society can handle by itself. It requires lots of consultation and conversations with trust between faith communities, religious ethnic groups, government, academia to come up with the right solutions that will work in the Canadian context."
In her keynote remarks, Solange Lefebvre, a research chair at the Université de Montréal, analyzed how the media is implicated in the production of extremism. She also reflected on how religious groups should respond to this challenge: "How do we build open and critical believers? How do we do this? We need very dynamic communities capable to ask the good questions. We need good leadership, flexible individuals, knowledgeable individuals – who know the traditions, who know the sacred text, but are capable as well to ask the good questions."
The final sub-theme of the conference examined the relationship between science and religion, especially in relation to technology.
Borna Noureddin, professor at the British Columbia Institute of Technology, observed that when it comes to technological choice, we cannot only consider individual users. Our communities and culture also exert powerful forces, and these need to be part of our conversation about the design and use of technologies.
"Who are the protagonists of social evolution? What are the essential relationships that exist between them? What are the power relationships?… We seem to think that individuals can and should have technological choice, but what choice do we really have when there's no collective will?", Dr. Noureddin asked.
In a workshop focused on the efforts of a Baha'i-inspired non-profit organization, Illumine Media, Esther Maloney spoke about how youth-led media production can influence culture and help to generate collective will. "Both religious and secular actors have a desire to see local communities flourish and kind of want more just spaces for human beings, especially for young people to grow up in communities that help them thrive," Maloney said. "I think across the board people are asking themselves, how can we treat each other, how can we behave with one another in ways that helps us build stronger communities."
The final keynote remarks were presented by Michael Ruse, a renowned philosopher of science, who presented areas of possible complementarity between science and religion.
As a philosopher who has focused on evolutionary science and its implications, he asserted that the real lesson of evolution is not that humans are naturally self-interested or competitive.
"The meaning of life is to be human and be social and use your talents as best as you can for the benefit of others… The only truly happy people, are people giving to others," he concluded.