A new film about Richard St. Barbe Baker, considered to be the world's first global conservationist, premiered in a virtual screening hosted from Saskatoon, Saskatchewan. The premiere of The Legacy of Saskatoon's Secret Forest took place at the same time as the United Nations COP26 meeting in Scotland and fell on the 50th anniversary of the date he was awarded an honorary doctorate from the University of Saskatchewan.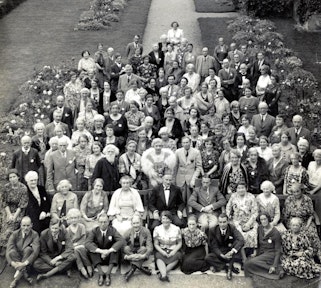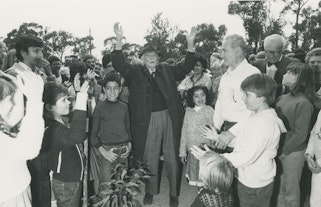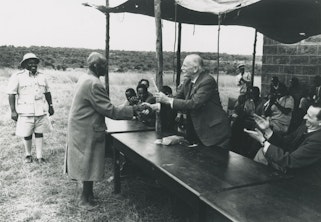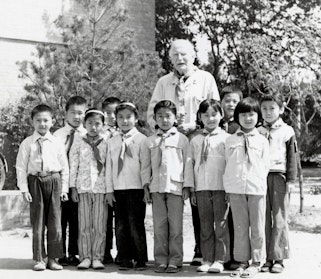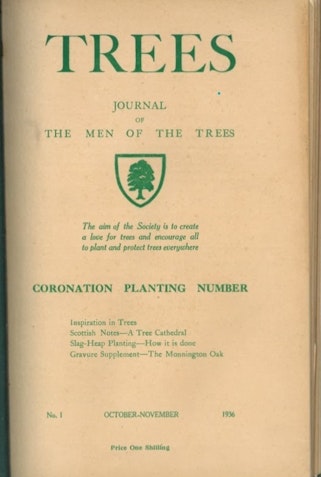 St. Barbe Baker was a member of the Bahá'í community and many aspects of his lifelong work were inspired by his Bahá'í beliefs.
The film and event recounting Baker's many achievements, and how his spiritual vision and character inspired many to dedicate their lives to environmental protection and education, comes at a time of growing interest in examples of positive action to buffer climate change.
The film and online program for the launch featured 11 individuals from Canada, Scotland, England, Australia, Switzerland and the United States who had met Baker or were inspired by him to become involved in environmental conservation and education, regionally or internationally. Alan Watson Featherstone, Founder of Trees for Life in Scotland, likened the many people inspired by St. Barbe, as his friends called him, as "a great sisterhood and brotherhood of people who were touched by this man."
The program also included Saskatoon's mayor and two city councillors, greetings from the Saskatoon Bahá'í community and an acknowledgement of Treaty 6 territory and homeland of the Métis. The premiere ended with a panel including Robert White from Saskatoon, Hugh Locke from New York, and Camilla Allen from England, who recently completed her PhD thesis on Richard St. Barbe Baker.
Richard St. Barbe Baker came to Saskatoon in 1909, became a member of the University class of 1910, the second class in its history, and bought an abandoned homestead near what is now Whitecap Dakota First Nation. He credited his warm association with Indigenous neighbours for helping him develop a different way of looking at nature, and it was here seeing wasteful practices while working at a lumber camp that he determined to study forestry.
After returning to England in 1913, serving in World War 1, and studying forestry at Cambridge, his first employment was with the British Colonial Service in Kenya. Baker quickly saw the link between deforestation and land degradation and, working closely with the Kikuyu elders, developed nurseries and fostered a committed group of tree planters, Watu Wa Miti or Men of the Trees.
Baker went on to establish the Men of the Trees worldwide. At one point it had members in over 100 countries and was, arguably, the first global environmental NGO.
His assignment in Kenya ended abruptly when Baker stepped between his superior officer and a Kikuyu worker and received the blow of the officer's riding crop. Back in London in 1924 he was asked to speak about the beliefs of the Kikuyu at a conference and there he met a Bahá'í. He boldly applied its central principle of fostering unity, most notably in an initiative devoted to inter-religious harmony in Palestine in 1929, undertaken with the personal encouragement of Shoghi Effendi.
Baker's deep spirituality, his gentleness, his caring for others and the planet, were acknowledged by both Vance Martin, president of WILD Foundation, and by Featherstone as part of his being a Bahá'í. They and another conservation leader, Leona Graham, all met St. Barbe when he visited the Findhorn community in Scotland in the late 1970s and supported its founders.
Hugh Locke, St. Barbe's literary executor, who also assisted with planning many of Baker's trips, pointed out Baker's legacy began with his time working with the Kikuyu. He introduced tree planting and environmental responsibility in a way that communities could own. Instead of "just do it, trust me, it will be good for you" he found ways to make it a part of the culture of the people he was working with.
Baker "was a visionary, a way ahead of his time," noted Featherstone. Dr. Alan Grainger, who researches global environmental change at the University of Leeds, said that Baker "was the first person to think of the world's forest as having a global function." He began to understand this in the 1920s; now, forest protection and tree planting are a central element of ameliorating climate change.
Baker was visiting Saskatoon when he passed away four days after planting his final tree on World Environment Day, 5 June 1982. The Bahá'í community planned for his burial under two tall trees, in the line of sight of the last tree he planted on the banks of the South Saskatchewan River.
Robert White, who met St. Barbe while a student, and was deeply influenced by his work, demonstrated how St. Barbe would physically connect with trees and draw on their energy. In addition to White and Locke, other Bahá'ís interviewed were David van Vliet and Paul Hanley, author of Man of the Trees, Richard St. Barbe Baker: the First Global Conservationist.
The "Men of the Trees," now known as the International Tree Foundation, continues Baker's work in nine African countries and across the UK and Ireland. Its Watu Wa Miti program in Kenya works with 12 community partners to plant trees and restore degraded lands.
Baker's passion for trees and his extraordinary capacity as a communicator earned him the title "Man of the Trees." He authored 30 books and left his papers to the University of Saskatchewan Archives, one of its most requested collections. These are being digitized and available at http://stbarbe.library.usask.ca.
The film was commissioned by the non-profit Friends of the Saskatoon Afforestation Areas. A 326-acre forest planted in 1972 is the larger of two afforestation areas in Saskatoon and was named after Baker in 1978.