The DemocracyXChange Summit provides an occasion for civil society groups and political leaders to explore ways in which to strengthen democratic processes. This year the conference was held virtually, attracting participation from some 650 people across the country.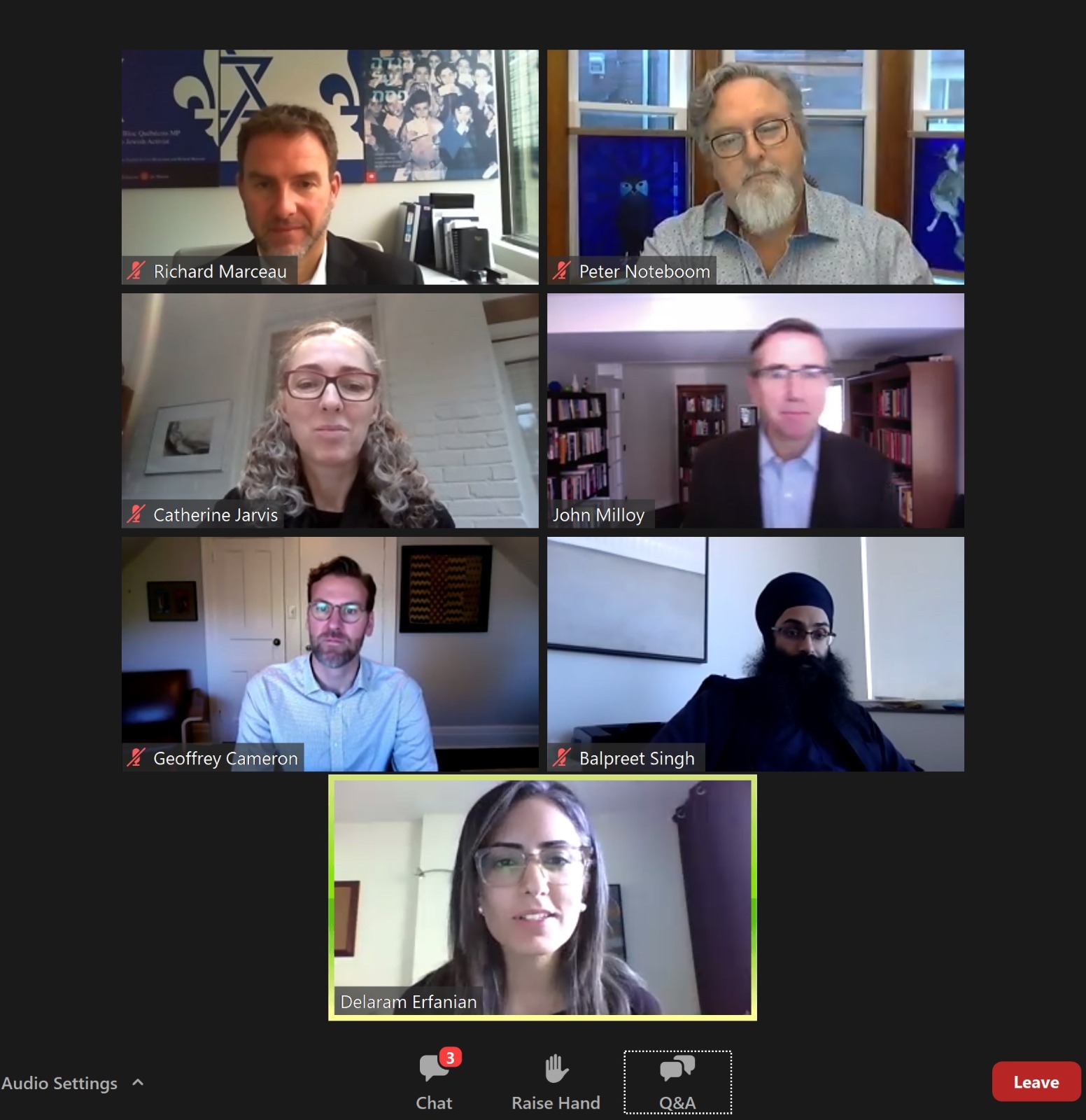 Two of the sessions organized in partnership with the Baha'i Community of Canada's Office of Public Affairs explored how faith and religious groups can help to foster cross-party dialogue with Members of Parliament.
The Office of Public Affairs was a sponsor of the conference and was represented on the Program Advisory Committee.
On October 15, Geoffrey Cameron, Director of Public Affairs, co-hosted a panel called "Faith as a Vehicle for Dialogue: A View from the Hill". Moderated by John Milloy, Director of the Centre for Public Ethics at Martin Luther University College, the panel included Members of Parliament from three political parties: Elizabeth May, Garnett Genuis and Anthony Housefather.
The panelists discussed the role of faith and spirituality in their lives, and how it helped them to foster social and other connections with fellow MPs of other parties. Anthony Housefather commented on the party tribalism that can interfere with problem-solving between representatives from different parties. He said that engaging with religious groups in an all-party environment can help to overcome some of those tendencies.
One of the ideas discussed was creating an All-Party Interfaith Caucus. Leading up to the conference, Dr. Cameron wrote a blog post for OpenDemocracy.ca which shared this idea as a way to promote public dialogue on issues of shared concern between Parliamentarians and religious and faith groups.
Garnett Genuis noted that religious groups are part of civil society, and they should be welcomed as full participants in discussions about public affairs and public policy. An All-Party group would be a means of allowing these voices to be heard in a constructive way, he suggested, so that dialogue could be focused on advancing the common good.
Dr. Milloy published an editorial in a number of newspapers following the panel, in which he discussed insights that emerged from the discussion. "Faith... can help create a moral framework for action; offer spiritual support; and help overcome rampant tribalism on Parliament Hill," he noted.
The panel discussion with Parliamentarians was followed by a second roundtable with representatives of religious groups. Co-Sponsored by the Canadian Interfaith Conversation, and hosted by the Office of Public Affairs, the virtual discussion brought together representatives from the World Sikh Organization, Centre for Israel and Jewish Affairs, National Council of Canadian Muslims, Canadian Council of Churches, Church of Jesus Christ of Latter-Day Saints, and the Baha'i Community of Canada. The roundtable can be viewed here.
The discussion among these representatives focused on what kind of spaces could be created on Parliament Hill to promote more effective dialogue between faith groups and elected officials.
"So much of our political discourse is limited to advocacy and position-taking," said Dr. Cameron, "We need more spaces where we can look to core moral, ethical, and spiritual principles – a practice that is shared by religious communities – and consider their implications for areas of public policy."
Peter Noteboom, General Secretary of the Canadian Council of Churches and co-Chair of the Canadian Interfaith Conversation echoed this idea. "There are principles we hold to that don't lend themselves to polarization and many of our faith communities share in common. These are a starting place for the kind of dialogue we want to create."
"We could see this caucus as a bigger idea where we are creating a safe space to talk about issues," suggested Balpreet Singh, Legal Counsel for the World Sikh Organization.
"Creating space for understanding each other is very important before we get to the point of public advocacy," added Catherine Jarvis, a representative of the Church of Jesus Christ of Latter-Day Saints. She noted what she had learned from Indigenous practices of sitting in circles to understand the problem at the middle, to reflect on how we are seeing problems that can become contentious political issues.
"Our hope for these panel discussions is that they will help to lay the groundwork for the creation of an ongoing conversation between Canada's diverse religious groups and elected officials on issues of shared concern," said Dr. Cameron. "At a time when the forces of polarization and division are felt by many people, we are making an effort to foster genuine dialogue that can draw insights from the knowledge and experience of Canada's religious communities."