Over 120 people gathered at Martin Luther College in Waterloo, Ontario on May 7-9 for the 8th iteration of the Our Whole Society Conference. Organized by the Canadian Interfaith Conversation, and sponsored by the Social Sciences and Humanities Research Council and the Canadian Race Relations Foundation, the bi-annual conference focuses on themes related to religion and public life in Canada. It has been actively supported by the Bahá'í Community of Canada's Office of Public Affairs since its inception in 2013.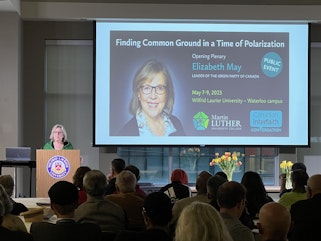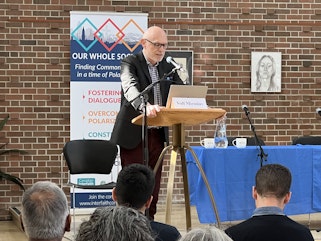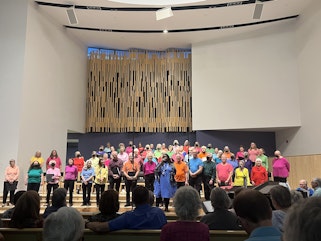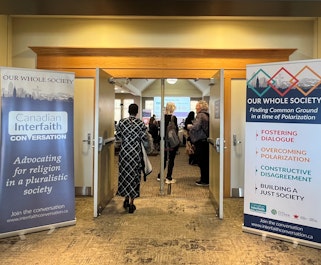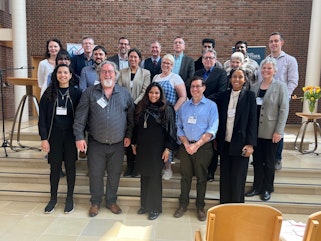 This year's conference, titled 'Finding Common Ground in a time of Polarization', explored causes of division in Canadian society and the role of faith communities in addressing polarization. Speakers and attendees reflected on constructive responses in the face of disagreement and conflict; ways in which an open and pluralistic society can welcome different voices in a vibrant public sphere; and how voices of spirituality, faith and religion can be a source of insight to address the challenge of polarization.
In the opening keynote address, Ms. Elizabeth May, Member of Parliament for Saanich—Gulf Islands and Co-leader of the Green Party of Canada, framed the rise in polarization observed in Canada in recent years as a threat to democracy, society and individual families. Noting that polarization is often bolstered by feelings of social isolation, MP May highlighted the importance of faith communities' capacity to restore a sense of connection between people of diverse background as an antidote to further polarization.
Professor Miroslav Volf, Director of the Yale Centre for Faith and Culture, observed that conceptions of identity which legitimize violence for the protection of a group or that prioritize ethnocultural identity over a shared humanity impede the creation of societies characterized by openness and belonging. The metaphor of 'home', as a nurturing site of belonging that shapes identity while remaining open and welcoming to others, was introduced as a means of imagining how we can orient our own identities to counter tendencies towards polarization.
Attendees also had the opportunity to join in numerous workshops between plenary sessions and enjoyed an evening performance from the Inshallah Interfaith community choir – marking the first time an Our Whole Society conference theme was explored through the arts.
"This year's program assisted conference participants to understand, and counter, the phenomenon of polarization in Canada. Additionally, the Our Whole Society conference itself can be viewed as a counter to polarization" said Ms. Andrea Salguero, Director of the Office of Public Affairs for the Bahá'í Community of Canada and Canadian Interfaith Conversation board member. "Through their participation this weekend, attendees from different backgrounds have already modeled a way of engaging with differences of perspective in a respectful and constructive way."
Links to recordings of the plenary sessions and the Inshallah choir concert will be available on the Our Whole Society website in coming months.