Eric Farr, a PhD student at the University of Toronto, recently spoke at a conference organized by the think tank Cardus, which explored the ways in which young people are living a "public faith". Farr attended on behalf of the Baha'i Community of Canada's Office of Public Affairs.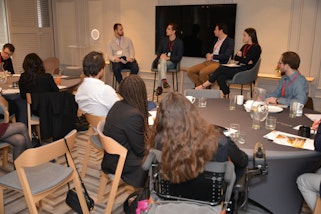 The theme of the conference was "Faith in the Future: Millennials of Faith Summit," and it was organized under the auspices of the Cardus Religious Freedom Institute (CRFI). It brought together a cohort of young professionals from a variety of sectors in society to consider the ways in which they are bringing insights from religion to bear on their participation in the life of society.
Participants in the conference included a Member of Provincial Parliament, a federal Member of Parliament, and Andrew Bennett, former Ambassador for Religious Freedom and Director of the CRFI.
Mr. Farr began his remarks by observing that the discussion at the conference must necessarily begin with some understanding of the role of religion in society. He proposed that the role of religion is "to effect a transformation in the inner life of humankind and in the structures of society."
He observed that the Baha'i community has been trying to learn about how to foster an attitude of public faith in this mode. Baha'is work in their neigbourhoods to build communities that are spiritually and materially prosperous. They also strive to build capacity and create spaces "where every member of a community can have a voice and take ownership over their own spiritual, intellectual, and social development."
Action inspired by religion must, however, carefully consider its relationship to politics. Speaking to a diverse group of participants, Mr. Farr added, "We can't reduce the expansive teachings of our faith to any partisan position." Therefore, to live a public faith means that one must "constantly strive to do the patient work of building consensus, knowing that lasting change won't come about from fleeting political victories but from developing new capacities in individuals and communities."
Concluding his remarks, he added, "A public faith of the kind I am describing would seek to offer a hopeful and compelling vision of the future. The forces in today's society that foster disillusionment, disappointment, and passivity are so strong. And I think [helping to combat these forces] is an incredibly potent way for people of faith to contribute to public life."
Reflecting on the conversations that took place at the conference, Mr. Farr noted that it is valuable to have the opportunity to discuss the role of religion in society with others from different faiths.
He said that there can be a tendency in Canadian society to glorify diversity and disagreement for its own sake, when in fact an appreciation for diverse views is only a way station to achieving greater unity and understanding between people. Referring the quotation from the Baha'i writings, "The shining spark of truth cometh forth only after the clash of differing opinions," Mr. Farr noted that the clash is not a good in itself; rather it shows its virtue by igniting the spark of truth.